Welcome to the School of Rock Wiki!
Today is January 21, 2019, and there have currently been 16,583 edits to this wiki. The wiki format allows anyone to create or edit any article, so we can all work together to create a comprehensive database for the School of Rock franchise. Don't forget to visit this wiki's Guidelines before editing. To write a new article, just enter the title in the box below.
Meet the Characters!
January Features!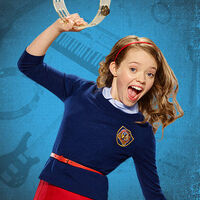 Summer Hathaway is an overachiever with perfect attendance, schoolwork and organization. She's one for helping people out and putting others before herself, like McKenna Daugherty in her favorite book "Terminal Heart". That's why she makes a great band manager! (See more...)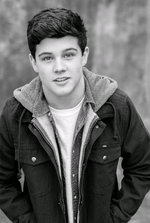 Will Kindrachuk is an American actor who landed his first acting role as Asher. Before earning the role, he was into improvisational acting in his hometown of Raleigh. Happy birthday to him for the 5th! (See more...)
Summer and Asher is the friendship/romantic pairing between Summer Hathaway and Asher during Seasons 2 and 3 of School of Rock. A potential mutual attraction was hinted in the episode, Total Eclipse of the Heart. (See more...)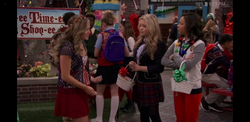 Jingle Bell Rock is the eighth episode in Season 3. It is the only Christmas-themed episode of the show. While Tomika and Summer try to get Kale into the school's holiday pageant, Zack, Lawrence, and Dewey try to recreate Freddy's Christmas traditions because he is spending the holidays without his mom for the first time. (See more...)
Meet the Staff!
Bureaucrat and Content Moderator
MaxBlack123

---

Since September 17, 2017
Administrator and Content Moderator
LunaLynn

---

Since March 23, 2017
Administrator, Content Moderator and Chat Moderator
Anylist Amethyst

---

Since December 3, 2017
Other Nickelodeon Wikis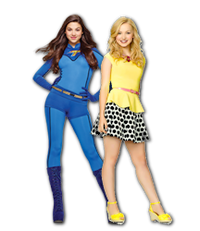 Goodbye Messages to School of Rock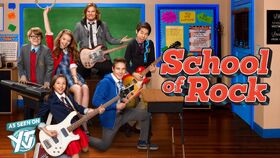 It's Time to Say Goodbye...
Thank you to everyone, particularly the Admins, Lynn and Jaisen. Co-Heads, Max, Jax and former founder, Sarah for making and being apart of this brilliant wiki.

Goodbye Messages:

"I've watched the series since Season 1 and just seeing the insane character developments, the plotlines, the laughs, let's just say that this was a good show to watch here and there. I'm going to miss it, but hope the cast nothing but the best." ~ Sarah
---
"I have loved watching School of Rock, I have watched every episode and watched since the first season, it has been amazing to see all the characters grow and even though the ratings have dropped, I know that lots of people still have the show in their hearts; full of inspiration and love. I wish all the cast and production team the best in their future endeavours." ~ Max Black
---
"After watching the film, I didn't think the TV show would be as good. However, after the first episode, I knew the show would be great and then after the first few episodes I was hooked. The characters have grown so much; from Lawrence being comfortable around Esme to Freddy and Summer admitting their feelings to each other and finally becoming a couple (for a while). I wish the cast the best for their future endeavours and hope they return to Nickelodeon one day. I will miss the show a lot - it has been one of my favorite TV shows ever." ~ Jax Garcia
---
"I've watched the show since the day it premiered and I found myself immersed in the different personalities the characters portrayed, from Summer's drive to succeed in school to Lawrence's open intelligence. Since Come Together, I've seen every single episode. I've seen all the characters grow and love and be themselves and this show has given me so much joy over the years it ran. I hate the fact that it is ending so soon, I wish it could go onto for a fourth season. Although, I will forever be thankful for the show. It brought me great storylines, great characters and a great cast who will hopefully be friends until the end of time. Also, thanks to the show, I was able to experience something that will forever be the best thing that happened to me. I love School of Rock and I will miss it. Thank you SOR, for everything." ~ Lynn
---
When I heard about School of Rock, I wasn't very excited because it wasn't the type of show that I would normally watch. Although, when Come Together aired, I decided to give the show a chance; the first episode gave me hope in the show. I decided to watch it for five straight weeks and thought it was awesome! The only time where I ever doubted School of Rock was after the episode, Love Is a Battlefield. Although in March, I decided to watch the episodes I missed and surprisingly they were amazing! The cast have evolved in the Nickelodeon universe and I wish the cast the best. In my opinion, it didn't deserve to be cancelled. Goodbye School of Rock." ~ Jaisen
---
Thank you for a fantastic show, Nickelodeon; we will miss you School of Rock!
Chat
About the Show
Inspired by the hit movie of the same name, "School of Rock" follows a unique group of prep school students who are in for the change of a lifetime when a down-on-his-luck musician poses as their substitute teacher. Throughout the school year, these middle-school classmates find themselves navigating relationships, discovering their unknown talents and learning lessons on loyalty and friendships.
Poll
Did you like the Christmas-themed episode, ?
Blog
Create blog post
Latest Blog Posts
Hello School of Rock Wikians,

I have seen Jax's post, and it basically says it all. I would just like to add, that Jax and I will be searching for a t…

Read more >

Hello everyone,

It is Max here. I am here just to let you know that there have been a few requests of wanting to be admin, and I am happy that I am se…

Read more >

Hello Everyone,

I really hope you enjoyed the new year into 2018! Anyway, Sarah, Jax and I have discussed about all the admins, with how active they a…

Read more >
See more >